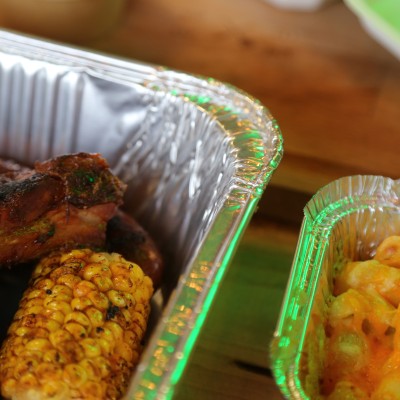 Foil Containers
Our foil containers provide a strong leakproof option for storing and transporting food. Great for takeaways, these containers are suitable for freezing and oven cooking.
Available in a standard or large size with an optional cardboard lid which can be written on for easy identification. The foil container has ribbed, east to fold edges, allowing you to securely fix the cardboard lid in place.
Looking for a food container that's safe for the microwave? Try our microwavable containers.
Info
Product

Price per
1 - 2 Packs
3 - 4 Packs
5 - 9 Packs
10 + Packs

Qty per pack
No. of Packs
Sub Total

No additional Information

No 2 Foil Container 133x110x40mm
£47.00
£43.00
£41.00
£39.00
1000

£

0.00

Add to Basket

No additional Information

No 2 Foil Container Lid
£20.35
£19.00
£18.50
£18.00
1000

£

0.00

Add to Basket

No additional Information

No 6A Foil Container 197x105x49mm
£35.60
£34.00
£33.20
£31.60
500

£

0.00

Add to Basket

No additional Information

No 6A Foil Container Lid
£16.60
£15.80
£15.00
£14.75
500

£

0.00

Add to Basket
Total:

£

0.00

Add All to Basket