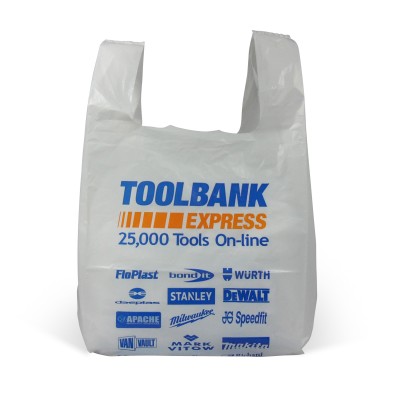 Printed Vest Style Carrier Bags
This printed vest style polythene carrier bag is the ideal way to promote your company at a minimal cost. They are made from strong high density polythene as standard. This bag can also be produced with a degradable additive allowing them to naturally degrade in a much shorter time than standard polythene. The minimum quantity for this style of bag is 5,000 bags.
As standard these are only available in white film but coloured film is available for orders of 25,000+
18mu White HD film as standard
20mu and 25mu HD film available
Many other thicknesses available
Low density film in a variety of thicknesses available.
More film colours available from 25,000+ bags
100% degradable as an option
100% recyclable
Standard lead time 5 weeks
Sizes
We can produce lots of sizes as standard, some of the common sizes available are shown below. More sizes are also available on larger runs.
| | | |
| --- | --- | --- |
| 7x11x15" | 8x15x16" | 10x15x18" |
| 11x17x21" | 13x19x23" | 14x22x24" |
Material
Some of the standard materials are as follows;
HDPE - 15mu, 18mu, 20mu, 22mu, 25mu, 30mu
LDPE - 30mu, 40mu, 50mu, 62.5mu
Options
White or coloured films
Turnaround
UK production approx. 4-5 weeks
Far east approx. 12-16 weeks
Minimum Quantities
5,000 for a 1 or 2 colour print
25,000 for 3 or 4 spot colours
Looking for a smaller print run? Try our vari-gauge carriers.