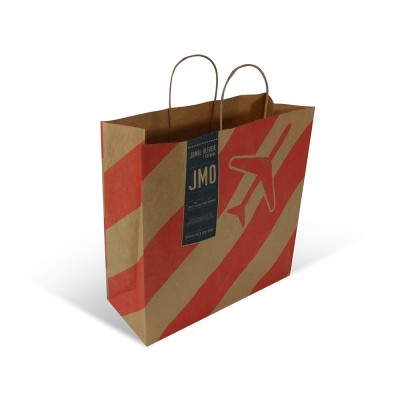 Printed Twist Handle Paper Bags
Our twist handle carriers are made from white or brown kraft paper and as standard are supplied with matching paper handles. These quality carrier bags are an excellent way to promote your company and they are 100% recyclable and bio-degradable. Suitable for promotional use, gift shops, clothes shops, and accessory shops.
Subject to minimum order quantities a range of options are available such as coloured handles, cotton handles, full-colour printing, foiling, a large range of sizes, recycled and FSC paper.
These carrier bags are also available in short runs from just 100 bags, please see our printed twist handle short-run section for prices.
Extra Strong 90 - 110gsm kraft paper strength matched to the size of the bag
Available in brown and white kraft and also ribbed brown and white kraft
Coloured handles available from just 3,000 bags
Landscape and wider base sizes available from just 10,000 bags
100% biodegradable
100% recyclable
100% recycled optional
FSC® certified paper optional. (FSC® C007915).
Standard lead time 6-12 weeks. A quicker turnaround is available on these bags with a single colour overprint
Overprinted Sizes (100 Minimum) - View Prices
| | | |
| --- | --- | --- |
| 140x390+80mm | 180x240+80mm | 180x390+80mm |
| 220x310+100mm | 260x340+120mm | 320x410+120mm |
| 450x490+150mm | 540x490+150mm | |
Standard Sizes (3,000 Minimum)
| | | |
| --- | --- | --- |
| 140x210+80mm | 180x240+80mm | 220x280+100mm |
| 220x310+100mm | 260x340+120mm | 320x410+120mm |
| 350x360+140mm | 350x410+140mm | 450x490+150mm |
| 540x490+150mm | 140x390+80mm | |
Landscape Sizes (10,000 Minimum)
| | | |
| --- | --- | --- |
| 260x240+120mm | 320x260+120mm | 400x310+120mm |
| 450x390+150mm | 540x390+150mm | |
Wider Bases (10,000 Minimum)
| | | |
| --- | --- | --- |
| 260x290+170mm | 320x430+170mm | 350x270+170mm |
| 350x310+170mm | 320x320+210mm | |
Bottle Bag Sizes (3,000 Minimum)
| | | |
| --- | --- | --- |
| 140x390+80mm | 180x390+80mm | 260x390+80mm |