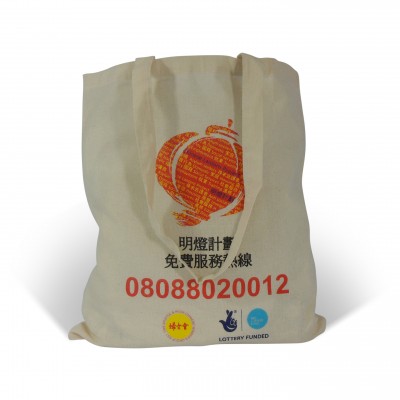 Printed Cotton Bags
Our printed cotton bags are extremely versatile and are the most cost-effective bag for life, offering excellent value for money. These cotton carriers are 100% natural and 100% biodegradable. They can be printed from just 100 bags from stock or can be made in bespoke sizes starting from 1,000. They could also be dyed to almost any colour to ensure a perfect match to your colour scheme.
We have many styles, sizes and colours available from stock, which can be overprinted in the U.K. on quantities from 100 bags. This bag for life is ideal for schools, universities, exhibitions and promotional purposes.
4oz, 5oz or 6oz cotton available
Any bespoke size can be produced
Available with or without a gusset
Short (40cm) or long (60cm) cotton handles as standard
Bags can be dyed 100% ink including the handles
Stock bags can be overprinted in 1-2 weeks
Bespoke bags can be produced in 12-14 weeks
Looking for a thicker bag? Please see our canvas bags.
Minimum Quantities
100 for overprinting in the U.K.
1,000 for all other options.
Sizes
Any size can be achieved with this product subject to minimum order. The standard sizes are 380x420mm and 380x420+100mm.
Materials
5oz, 6oz, 8oz Natural cotton.
Options
Long or Short Handles, Natural Cream, Coloured or Bleached Cotton.
Side and bottom gussets are available.
Turnaround
Standard lead time 1-2 weeks on stock sizes.
Bespoke jobs approx. 12-14 weeks.