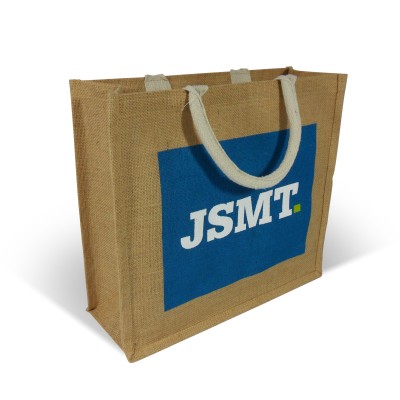 Printed Jute Bags
Our printed jute bags are strong, durable bags, made from natural jute fibres that are woven and often laminated. We have options on the handles ranging from natural jute to rolled cotton handles. This bag is extremely popular with farm shops, greengrocers and environmentally conscious businesses.
We stock a wide range of Jute bags which can be overprinted in the U.K. on minimum quantities of just 100 bags. We can also produce bespoke products or larger quantities in approximately 12 weeks starting from just 1000 bags.
Strong Laminated Jute Material
Any bespoke size can be produced
Available with a side and bottom gussets
Natural or rolled cotton handles
Full colour dyed bags or just dyed gussets
Bags can be dyed bespoke colours
Stock bags can be overprinted in 1-2 weeks
Bespoke jobs in 12-14 weeks
Minimum Quantities
100 for overprinting in the U.K.
1,000 for all other options.
Sizes
Any size can be achieved with this product subject to minimum order. We stock a standard size which is 390x350+150mm.
Materials
Natural jute, dyed jute
Options
Natural jute, various colour options or dyed to order subject to minimum order, rolled cotton handles, natural jute handles.
Turnaround
Standard lead time 1-2 weeks on stock sizes.
Bespoke jobs approx. 12-14 weeks.
Looking for something different? Please see our canvas bags.