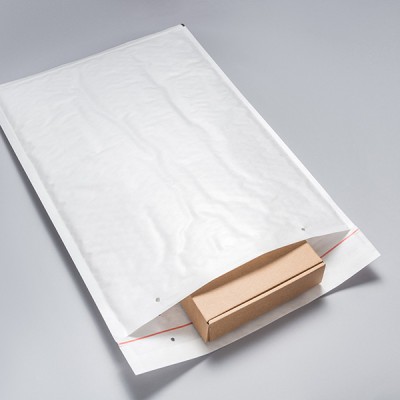 Bubble Lined Envelopes
Need to send a fragile item through the post and worried about breakages? We stock a wide range of Featherpost Bubble-Lined Envelopes allowing you to find the exact size you need.
Made from FSC paper, each envelope is fully lined with bubble wrap, protecting your items from impacts and punctures as well as making the envelope tear-resistant whilst retaining a lightweight quality.
Each envelope comes with an easy to peel self-adhesive strip for quick and secure sealing and can be written on, or have address labels attached to it, like a regular envelope.
Info
Product

Price per
1 - 2 Packs
3 - 4 Packs
5 - 9 Packs
10 + Packs

Qty per pack
No. of Packs
Sub Total

No additional Information

Featherpost A 110x165mm Bubble Lined
£15.50
£14.50
£14.25
£13.50
200

£

0.00

Add to Basket

No additional Information

Featherpost B 120x215mm Bubble Lined
£18.00
£17.00
£16.00
£15.00
200

£

0.00

Add to Basket

No additional Information

Featherpost C 150x215mm Bubble Lined
£11.00
£10.00
£9.50
£9.00
100

£

0.00

Add to Basket

No additional Information

Featherpost D 180x265mm Bubble Lined
£17.00
£16.00
£15.00
£14.00
100

£

0.00

Add to Basket

No additional Information

Featherpost E 220x265mm Bubble Lined
£18.00
£17.50
£15.90
£15.50
100

£

0.00

Add to Basket

No additional Information

Featherpost F 230x335mm Bubble Lined
£20.00
£19.50
£18.00
£18.50
100

£

0.00

Add to Basket

No additional Information

Featherpost G 240x335mm Bubble Lined
£24.00
£21.00
£20.00
£19.00
100

£

0.00

Add to Basket

No additional Information

Featherpost H 270x360mm Bubble Lined
£28.00
£23.50
£23.00
£22.00
100

£

0.00

Add to Basket

No additional Information

Featherpost J 300x445mm Bubble Lined
£17.00
£16.80
£15.50
£14.50
50

£

0.00

Add to Basket

No additional Information

Featherpost K 350x470mm Bubble Lined
£23.00
£20.00
£19.00
£18.00
50

£

0.00

Add to Basket
Total:

£

0.00

Add All to Basket