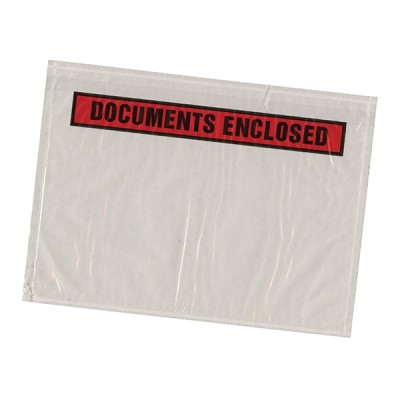 Document Enclosed Envelopes
If you need to attach paperwork to a delivery, parcel or box our Document Enclosed Envelopes are an ideal option for keeping your papers secured and waterproof. With a strong self-adhesive backing, the envelope is easy to attach onto a variety of surfaces and has a clear front to show the documents inside.
Available plain or with "Documents Enclosed" printed on the front of the envelope.
Info
Product

Price per
1 - 2 Packs
3 - 4 Packs
5 - 9 Packs
10 + Packs

Qty per pack
No. of Packs
Sub Total

No additional Information

A4 310x230mm Printed
£36.48
£33.84
£33.31
£32.01
500

£

0.00

Add to Basket

No additional Information

A5 225x160mm Printed
£46.60
£45.10
£43.77
£42.96
1000

£

0.00

Add to Basket

No additional Information

A6 160x110mm Printed
£24.44
£23.65
£22.75
£22.23
1000

£

0.00

Add to Basket

No additional Information

A7 110x95mm Printed
£15.80
£15.29
£14.51
£13.38
1000

£

0.00

Add to Basket

No additional Information

A4 310x230mm Plain
£36.48
£33.84
£33.31
£32.01
500

£

0.00

Add to Basket

No additional Information

A5 225x160mm Plain
£46.60
£45.10
£43.77
£42.96
1000

£

0.00

Add to Basket

No additional Information

A6 160x110mm Plain
£20.65
£19.98
£19.15
£18.69
1000

£

0.00

Add to Basket

No additional Information

A7 110x95mm Plain
£14.93
£14.45
£13.69
£12.57
1000

£

0.00

Add to Basket
Total:

£

0.00

Add All to Basket