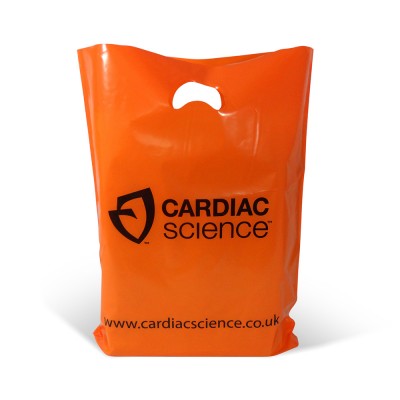 Printed Varigauge Carrier Bags
Durable vari-gauge polythene carriers with a punched-out handle provide a cost-effective yet eye-catching solution for your packaging needs. These bags can be produced with a degradable additive allowing them to naturally degrade in a much shorter time than standard polythene.

Available in a standard range of 14 different colours with more colours available from just 5,000+ bags.
Strong 180/360g (45/90mu) polythene as standard
Available as standard in most sizes in Black, Dark Blue, Clear, Gold, Silver, Dark Green, Ivory, Orange, Pink, Red, Burgundy, Violet, Yellow and White
More film colours available from 5000+ Bags
100% degradable option
100% recyclable
Standard lead time 3-4 weeks
Fast track option available in as little as 1 week
If you are looking for a paper alternative, please look at our new die-cut handle paper bags.
We now have a 100% biodegradable and compostable version of this bag, see our compostable bag for more details.
Sizes
We can produce lots of sizes as standard, some of the common sizes available are shown below. More sizes are also available on larger runs.
| | | |
| --- | --- | --- |
| 10x12x3" | 10x14x3" | 10x16x3" |
| 12x16x3" | 12x18x3" | 15x18x3" |
| 20x18x3" | 22x18x3" | 28x24x4" |
Material
LDPE - 180/360, 200/400, 250/500
Turnaround
Standard lead time 3-4 weeks
Fast track option available in as little as 1 week
Minimum Quantities
Starting from 1,000 bags