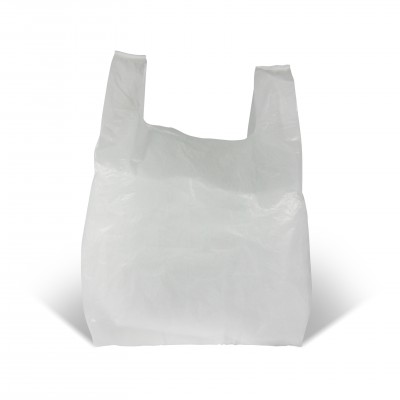 White Vest Style Carriers
Our plain white vest style carrier bags provide a cost effective yet eye catching solution for your packaging needs. These bags are available from stock and come in a big range of colours and sizes.
The white vest carrier is available in four standard sizes 10x15x18", 11x17x21", 13x19x23" and 16x25x29".
We can also offer printed vest style carriers in multiple sizes and other materials, including compostable.
Please note that all sizes and quantities are approximate.
Image shown is for illustrative purposes only.
Info
L x W x H

Price per
1 - 2 Packs
3 - 4 Packs
5 - 9 Packs
10 + Packs

Qty per pack
No. of Packs
Sub Total

No additional Information

10x15x18" (25x37x45cm)
£23.00
£22.50
£21.50
£21.00
2000

£

0.00

Add to Basket

No additional Information

11x17x21" (27x42x52cm)
£35.65
£34.10
£33.00
£32.20
2000

£

0.00

Add to Basket

No additional Information

13x19x23" (32x47x57cm)
£27.50
£26.50
£25.00
£24.50
1000

£

0.00

Add to Basket

No additional Information

16x25x29" (40x64x74cm)
£29.00
£28.00
£26.50
£24.80
500

£

0.00

Add to Basket
Total:

£

0.00

Add All to Basket