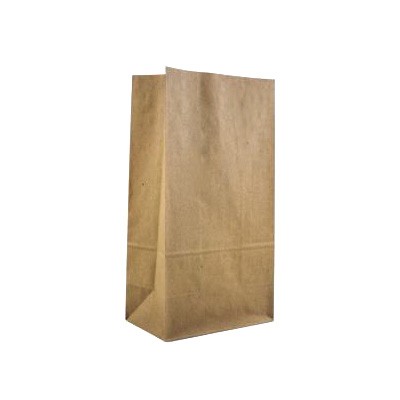 Block Bottom Paper Bags
The Block Bottom SOS paper bag comes in a range of sizes, making them suitable for many uses. Made from strong 70gsm kraft paper, they are perfect for anyone looking for an alternative to plastic. They are 100% recyclable and bio-degradable and are also carrier bag charge exempt. These bags are all in stock for next day delivery.
Also known as grab bags, these bags have been popular in American grocery stores for many years and are now becoming more common here due to the bag tax. This is one of the cheapest paper bags available to carry large amounts of goods. It is popular with many users including Fast Food, Deli, Flour & Sugar, Wholefoods and Pet Shops. Made from 70gsm Brown Kraft and traditionally used as flour bags which is why they are often referred to in various weights including 3.5lb, 5lb, 7lb, 10lb, 14lb, 21lb and 28lb bags. Measurements of the bags are width x height + gusset.
Want to get these bags printed? Please see printed block bottom bags for further details or alternatively ask for a quote.
Info
Product

Price per
1 - 2 Packs
3 - 4 Packs
5 - 9 Packs
10 + Packs

Qty per pack
No. of Packs
Sub Total

No additional Information

6x12+2.5" (150x310+65mm) 3.5lb
£11.40
£10.94
£9.88
£9.40
250

£

0.00

Add to Basket

No additional Information

6x14+2.5" (150x355+65mm) 5lb
£12.40
£11.95
£10.90
£9.90
250

£

0.00

Add to Basket

No additional Information

7x14+4.5" (175x345+115mm) 7lb
£16.62
£14.26
£13.60
£13.40
250

£

0.00

Add to Basket

No additional Information

8x15+4.5" (210x385+105mm) 10lb
£11.52
£10.60
£10.20
£10.00
125

£

0.00

Add to Basket

No additional Information

8x19+4.5" (210x485+105mm) 14lb
£16.90
£14.50
£14.30
£13.70
125

£

0.00

Add to Basket

No additional Information

10x16+5.5" (260x415+130mm) 21lb
£14.35
£12.75
£12.25
£11.95
125

£

0.00

Add to Basket

No additional Information

10x20.75+4" (260x520+100mm) 28lb
£16.70
£15.60
£14.50
£14.00
125

£

0.00

Add to Basket

No additional Information

12.5x19.5+18" (320x450+170mm)
£33.00
£31.00
£29.00
£28.00
250

£

0.00

Add to Basket
Total:

£

0.00

Add All to Basket